Dept urged to look into B'fort 'sinkhole'
Monday, 18 October 2021 | MYT 1:16 PM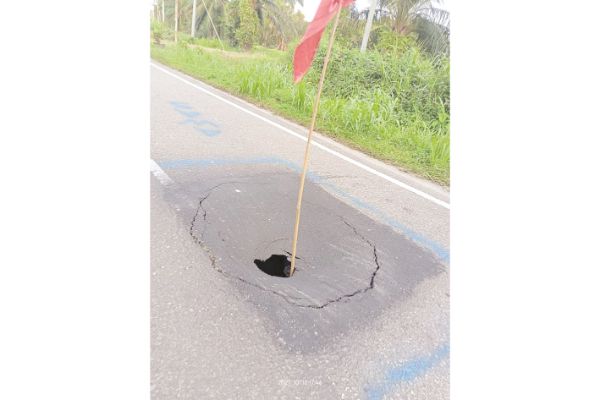 BEAUFORT: Residents in Kg Beringin want the Public Works Department to look into what appears to be a sinkhole located in the middle of Jalan Beringin Gadong.
"The sinkhole suddenly appeared in the middle of the stretch on Tuesday evening," said resident, Matjin Jimlee.
He said the sinkhole has raised safety concerns among residents who decided to mark it with red cloth attached to a pole to warn motorists of the sinkhole's presence. Residents are equally puzzled how the sinkhole could have appeared and are worried it might get worse if nothing is done to repair it.
"We don't know what caused the sinkhole. It could be due to soil erosion. We don't know," he said.
A motorist, Azren Samarali said they decided to tie red cloth to a pole before placing it in the middle of the sinkhole.
"We hope it can alert other motorists plyi
1
43
0
0